The availability in more than 88 countries and the reputation of being the second largest social media platform with over 1.5 billion monthly users worldwide, YouTube is surely emerged as an appealing and prolific advertisement platform used by big and small brands all across the globe.
As per Alexa traffic ranking, YouTube is also the second most visited site on the web after the Google. It gives you obvious reasons to use You Tube in your search engine marketing and social media marketing strategies. Most of the competitive digital marketing agencies are nowadays offering affordable SMO plans and YouTube SEO services in India. Most brands looking for SEO and SMO services India are nowadays investing in YouTube SEO services due to its numerous benefits. Some of the most competitive strategies used in YouTube SEO are:
Title tag is the hard hitting factor that affects your click through rates. It is important to wisely put only relevant keywords in the title tag. It should be punchy and pull the attention of your targeted audience.The title of your video should be at least 5 words long. That way, you can include your full keyword without keyword-stuffing.
Keywords in Description Tag
The better you explain your video using relevant keywords, the more are the chances of being clicked by targeted audience. It is recommended to write 300-500 words to describe the video.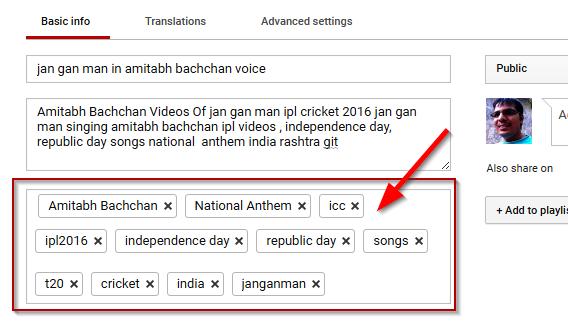 Tagging increase the search ability of your videos. It is recommended to use at least 10 tags and competitive keywords in your video, so as to increase the click through rates.
With millions of videos shred on social networking sites, you have to make extra efforts to grab the attention of users. If the thumbnails are unprofessional and boring, people will consider it as waste of time.
The video transcript plays a vital role in YouTube's rankings algorithm. One must not rely on YouTube's automated transcription process as there will be guaranteed errors in it. One should either edit automated transcript or use virtual assistance service to create a transcript of the video.
Linking is vital to get maximum out of your YouTube SEO efforts. You must link it to all of your YouTube channels and other videos to get more subscribers. Subscribing and linking are two of the most important ingredients of successful YouTube SEO. When you get more views from targeted communities, it will increase the ranking of your YouTube videos. One must ask people to like, comment and subscribe in each video .
Comments is the most powerful engagement factor for YouTube videos. Getting user comments will help you to get more relevance and response from the users and gives authority signal to YouTube. As many notorious people and vague competitors may try to tarnish your brand image, you can moderate comments by selecting "Allow all comments with approval only".
Most of the competitive SEO agencies in India are offering YouTube SEO services and SMO services India. Creating a successful YouTube channel requires a strategy to rank your videos higher and appreciated by the intended audience. It is advisable to seek assistance from competitive SMO agency India to get more YouTube views, subscribers and rankings.